Gozo Yoshimasu, one of the leading poets of contemporary Japan, had been working on the "Polaroid Photographs As Poems" series between late 1999 and the next autumn. This box edition contains accurate reproductions of 74 pieces from the collection as beautiful objects, and also a booklet with extracted text from Gozo's handwritten words on the prints. The reproduced photo cards are amazingly realistic, not only in size and color but also their paper elasticity and surface gloss.
–
Every box has one photo card mounted on the front, which comes in 74 types, equal to the number of the cards inside. We also offer a special edition with Gozo's original handwritten calligraphy. [Sold Out]
–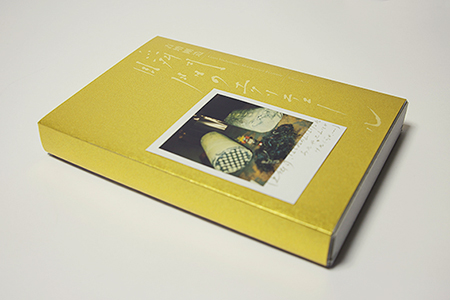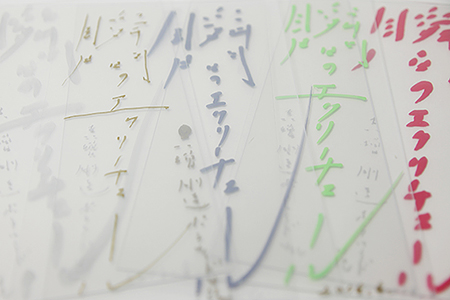 For the special edition of 30, every accompanying calligraphy is different.
–
–
[Commentary]
–
In the autumn of 1999, after having several photo exhibitions, Gozo Yoshimasu received a proposal for a Polaroid photo exhibition. He willingly accepted it and started working on the "Polaroid Photographs As Poems" series. Soon he began to write down his words in the black margin of the reverse side of instant prints with white, gold and silver ink pens.
–
The series was serialized in a Japanese weekly magazine "Asahigraph" from early 2000 under the title of "Momentary Ecriture: Gozo Yoshimasu's Polaroid Diary". Each installment ran as one color page of two Polaroid photographs and text.
–
In concert with the instantaneousness of Polaroid photography, his fresh words were written down shortly after photo taking and published with virtually no modification. To bring out "words written without time to polish and decorate" as they are is quite unusual for Gozo, who normally spends much time polishing his words. It would appear that the experience brought him into a new realm and influenced his later "Naked Memo" series, also called "Nakedwritings", which are handwritten notes given to his audience as handouts at lectures and other events.
–
He repeatedly mentioned at the time that he had been inspired by the loud noise and the way a Polaroid camera pushes out a print as well as the silky smooth texture he felt when writing down his words on the black back of prints.
–
The photographs in this edition were taken mostly while traveling. The shooting locations are in Arizona where Gozo was based, various places in France where he visited for poetry readings and other performances, in Ishikari where he stayed every winter, in Hanamaki known as the hometown of Kenji Miyazawa, in Amami and Okinawa where he continues to travel for 30 years…
The series reflected his deepest inner self behind his daily activities, such as writing, reading, performing and giving lectures at universities.
–
The serial was terminated with the 37th installment as the magazine was discontinued. In 2002, he had a photo exhibition entitled "Momentary Ecriture: Gozo Yoshimasu's Polaroid Diary" at Polaroid Gallery in Tokyo, where the 74 pieces from the collection and some newly added pieces were displayed.
–
When you look at the collection, you'll notice that Katsina dolls often appear in pictures as travel companions. They are wooden figures of the immortal spiritual beings carved by Hopi people, one of the Native American tribes.
–
–
Photographs, text and handwritten title: Gozo Yoshimasu
Coordination: Yuko Sakurai
Design: Shin Akiyama / Edition Nord
Cover making and color printing: Sun M Color
Printing direction: Seijiro Kori / Sun M Color
Printing in black and white: Print Designing
Assembled by Chiku Chiku Laboratory Ebisu, Chiku Chiku Laboratory Uonuma
–
First edition: July 1, 2016
Outer size: 225 x 150 x 28mm
Photo cards: 107 x 87mm / 74 cards
Card printing: 4 UV process colors, UV thick clear layer, UV metallic ink and 1 UV spot color on the front / UV mat black ink, UV metallic ink and 1 UV spot color on the back
Text booklet: Japanese / 215 x 140mm / 80 pages in black and white
Regular edition: first edition of 270 / 8,500 yen + tax
Special edition: limited edition of 30 / 15,000 yen + tax / sold out
–
Photographs and text © 2000 Gozo Yoshimasu
All rights reserved.
Printed and bound in Japan
–
–